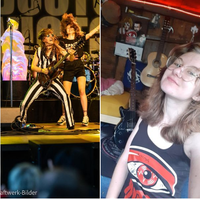 Jana Ebnat-Kappel, Switzerland
It was a pretty boring friday so me and my sister decided to go together to the festival "make some noise" in our rather small hometown. Without any expectations i sat there in front of the stage waiting for the show to begin. I was excited because it was my first live concert ever and i've always dreamt of dancing to live music but i never had the chance before.
The moment i saw them it was kinda love on first sight for me. Their outfits and long hair. Absolutely my vibe! Also the music and how they played had so much power. The energy was incredible.Yea in the next moment i see myself playing victors guitar and then rocking with him on stage. Thank you so much!!! You changed my life in so many ways and gave me such a big confidence boosti still can't believe this actually happened! I will never forget the feeling of freedom i felt in this moment.
The story ends with 3 days of a hurting neck haha. but also the best memory of my life.
And know i'm sitting here, writing this text of my story with #DOCTORVICTOR for #poweroffans while listening to 1st prescription being a little depressed because i miss live music but also looking forward for the next time seeing them live!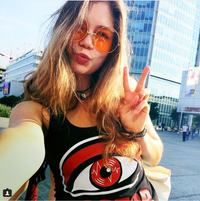 Alena
First time I had seen DOCTOR VICTOR at festival Casanovske slavnosti in Duchcov. After concert I could not stop thinking about them. Bell bottom pants, energy and incredible riding on the stage absolutely got me! That's why I did not hesitate, started to follow them on social medias and one year later I went to Teplice to hear them again. I think I do not have the favourite song. I like all of them. However BigJoint and SexyBlack I know by heart. I am coming back to the band for simple reasons. Guys look in reality pretty normal, I would say almost uninteresting, as any other young guy. ? But when I see that huge effort, that love, they give into music they enjoy, I must bow down. I love the atmosphere when everybody in club is dancing, or at least tapping his foot, and that effortless way by which they are gaining more and more new fans. Obviously all of them, same as me, feel great talent and especially the big heart reflected in their music.
Radovan, guy from Whisky Go Go, Los Angeles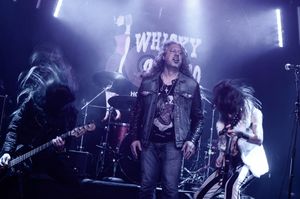 Wall of text but this is one of those stories that are hard to believe happened but is also like Chicken Soup for the soul when you realize how it came full circle.
---------------------
Back in January 2019, I was on a routine trip to Los Angeles to visit. I was there to visit both a Comic Book convention and also NAMM (the world's largest trade event for musicians).
A few days after NAMM, my good friend Daniel Omar was in downtown LA and bumped into a band that earlier in the week played at NAMM in the Hilton lobby while we were there but we missed them playing.
"You gotta check this band out. They're called Doctor Victor and they're playing at the Whisky A Go-Go this week."
If you've never heard of Doctor Victor and like your 70's style, straight up energetic rock and roll check them out. They've opened up for AC/DC and are worth the listen.
So we go to check the band out at the Whisky and while I was standing in the audience, Doctor Victor pauses during their set and calls me on stage to join them out of the crowd.
I had never seen these guys before in my life so I guess it was a part of their stage act but I was shocked as heck.
So I joined them on stage for a song and after the song they gave me a T-shirt of theirs as a 'Thank You'.
Thank you Victor Bure for the T shirt!!
We chatted with the band after the show and it was really a special night after being called on stage at the Famous Whisky A Go Go.
----------------------------------
Fast forward almost 9 months later and I'm at the Belmont Festival in Kitchener with my youngest daughter and we're enjoying some live music.
We came to see Romeo Sex Fighter play (if you haven't checked them out they are by far one of the best cover bands I've ever seen - all accomplished musicians in their own right they make every song their own while remaining true to the originals).
After RSF was finished, I heard music coming from the other side of Belmont St. from another stage and I felt it calling me so I asked my youngest daughter if she wanted to check it out.
-----------------------------------
We walked over and Goodnight, Sunrise was playing. I had never seen the band before. I really enjoyed the act.
If you haven't checked them out, they are an Indy rock band with amazing, melodic hooks and they have opened up for Bon Jovi recently.
Imagine my surprise when the lead singer, part way through her set stopped the act to call out me saying "I just want to give a shout out to the guy with the Doctor Victor T shirt. We played with them and they're amazing!"
My 18 year old daughter looked at me, probably thinking "Dad, WTF is going on?!?!"
I was wearing the T shirt that Victor had given me but I had no idea anyone would recognize them.
Vanessa Vakharia the lead singer then came out into the audience to hand me the the mic to me to help her sing the chorus to Neil Young's Rocking In The Free World.
We talked after the gig and she wanted to know why I was wearing a Doctor Victor T shirt.
I explained that I met them at NAMM earlier that year and she explained that they met Doctor Victor at NAMM as well because they both played that night at the Hilton Hotel back in January.
We talked about amazing co-incidences and how amazing positive things happen when you're in a positive mindset.
Anyway, it was an amazing way to top off an amazing night with my daughter who got to share in a part of my world and to have a story come full circle.
I only posted this because I didn't realize until last night that Victor Bure had a picture of me on stage with them at the Whisky and then I got a pic from Vanessa Vakharia on the night I met them in Kitchener.
Move forward a few months and we are now a circle of friends brought together by nothing other than the music.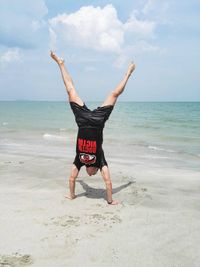 Michael
My first time with DOCTOR VICTOR was in 2013 on Czech GBOB final in Prague club Roxy. From the first strike to the strings sounded raw, entertaining rock'n'roll, and above all a great show. Over the years the band members changed, the style of DOCTOR VICTOR stabilized and sound with performance accomplished perfection. DOCTOR VICTOR are still my favourite band. I love Bastard (wonderful riffs), Romance (beautiful story and lyrics) and CandyGirl (Victor's expressions when he sings it). Best experience with DOCTOR VICTOR? Tour in UK 2017. ?Be part of your positive energy and for six days to listen to you "live", travel with you and see all the work and effort around. I respect you even more. ? Keep on rocking! I am a big fan of yours! Also it would be great to have the white version of your T-shirt ;-)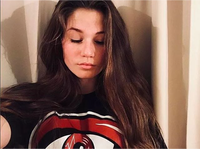 Sarah
I found out about DOCTOR VICTOR accidentally with my mum on New Year's Eve 2016 in Loket. I think it was a destiny because it was the best ending of year I'd ever experienced. Honestly, in 2016 it worsened a lot in my family. But when the band DOCTOR VICTOR came on stage, all the troubles, worries and sadness suddenly disappeared. This style or genre of music I heard for the first time and immediately after first song started to jump and throw my hair, like in movies. Their logo, that attracted me to buy a T-shirt, will take you right away. The cover of Prince - PurpleRain was the highlight for me and especially my mum cause after a long time I could see a smile on her face. Also when I wake up with bad mood, I must listen to Bastard ☺️ So everybody who is reading it, if you have not heard the band DOCTOR VICTOR, definitely you should and the best thing to do is to go on their concert.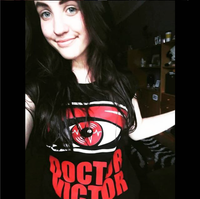 Veronika
First time I saw DOCTOR VICTOR last year in June when there was a whole week a city festival called Mesto V Pohybu in Usti Nad Orlici. When it comes to my first impression, honestly I had thought that DOCTOR VICTOR is casual Czech band naively thinking to be good. However I was very surprised and glad to find out that DOCTOR VICTOR is not the band as any other in Czech Republic . I enjoyed very much my first concert and at the end was sure that this is a great band, so immediately I had to buy the T-shirt . Also I must mention that I loved their show, especially rocking with audience they invited on stage. It was really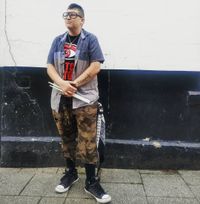 Porcelain Hill. Just want to say we LOVE Doctor Victor. As a international touring band ourselves, we have high expectations on bands and this one is definitely one for the books! This is definitely a band you have to experience LIVE and don't wanna miss out because this is definitely a band you will REGRET not seeing. They are definitely helping keeping that wild and authentic rock n roll alive!